jrodmc wrote:

WaltLongmire wrote:Religion...the most significant cause for warfare and strife in history...that should not even be a consideration when deciding whether or not to kill people or start a war. You can understand that the need for good land for farming or resources, or to alleviate overpopulation, might be a reason to go to war, but belief in an unprovable being (usually a guy, what a surprise)watching over the universe? Really?

I think you can make a strong case that, throughout history, the world would have been a better place without deity worship. The monotheistic religions, and more specifically, the ones which seek to proselytize, have been the worse culprits, of course.

Great timing, this...

It is a crutch for some, and booster of self-esteem for others, and for most their faith is now something that parents push on them when they are too young to make a rational decision.

I've seen good come from religion...I've seen bad, but I've rarely seen humanism or atheism used to buttress oppression, discrimination, or the urge to go to war. (The Soviet Union was not humanistic, by the way, they were only concerned that the Orthodox Church was a rival to their power.) Religion has been used to justify some of the worst things humans have committed upon other humans- slavery, racism, persecution, torture, the attack on science and progress, and much more. Some even say now that a man who had NEVER lived and behaved in a Christian way, was sent by the Christian God to lead us...Yup.


Right, the Soviet Union never preached atheism. Go read a book. Maybe you might see some reality.
Pol Pot says hello. Maybe you've heard of the killing fields? I suppose he had all those intellectuals and priests killed because he was just pissed at JC's firepower?
Ever read any Chairman Mao? The purges in China?
Whose books did Hitler hand out? Nietzche's. Ever hear of him? And spare me the "but he thought his first communion was so important".

Explain how Marxist/Communism which presupposes (as has been stated here in this thread) an atheistic worldview, didn't give rise to oppression, torture and killing on the scale that makes your empty, baseless statements about religion seem kind of insipid.

Newton, Pascal, Einstein (Hey meloshouldgo!) ever hear of any of those guys who led attacks on science and progress?

You have tons of archaelogical proof I suppose that shows Jesus never existed, right?

Atheism has done far more in body counts alone (I'll let you go google the numbers comparing the Crusades, the Inquisitions, Witch Trials, etc to compare to just one of your non-humanists listed above) than religion ever has.

Right, we humans are running the universe. All 14 billion light years across. yup yup.
Humans don't "run the universe," clown, and NOBODY has ever claimed this. We inhabit a small...very small, space in it. Honestly, that is arguably one of the most ignorant comments I've ever heard, AND DOES NOTHING TO PROVE THE EXISTENCE OF A "SUPREME BEING," OR BEINGS. Not knowing (or accepting) how things work doesn't mean you can put forth a deity to explain everything. I'll let the laws of physics "run" the universe. We are here for a short ride, only, and, sadly enough, at some point the earth, as we know it, will die, and it will happen without the initiative or consent of an all powerful being.
Another odd non-sequitur about the savior, who some seem to think shows an interest in American sports. I expect there was a human being such as JC, but CONTEMPORARY, non-Biblical historical records of JC are minimal...seem to recall that Josephus, a Jewish scholar, is the only historian who mentioned him, and some consider the passage to be a later insertion. I believe the man existed...the religious miracles...nope.
Funny that you mention certain scientists, Newton, etc., without acknowledging how religion was used to stifle science and scientific dialogue during the Middle Ages and later...You might want to read up on Galileo, Copernicus, Giordano Bruno, and others, but for you, I'd say watch Monty Python and the Holy Grail- the witch scene, and how ignorance and religious assumptions corrupted "science."
Religious bigotry fueled the pogroms against Jews in Russia and demonizing and dehumanizing them made it acceptable for the Nazis to do what they did. Christianity was used justify slavery or stood by silently. Christianity and Islam cared little for the beliefs of other cultures as they grew and spread, and Christianity was used to justify the genocide which tool place in the "New World." We still see examples of extreme Islamic thinking which seeks to destroy anything relating to past religions, or non-Islamic religious history. Hindus have gone after Muslims in India, with extremists burning down an important temple, years ago.
Stalin...Mao...others- they were a religion unto themselves...cult of personality, much like our president is to some folks, but none of them referred to humanistic beliefs to kill people. They were all about power and politics. Trump is most like Stalin at this point...a paranoid, gaslighting, revengeful thug, looking for worship. Stalin and Mao were not motivated by any humanistic/atheist set of beliefs, but they were anti-religious for various reasons, including the fact that religion posed a threat to their absolute rule. They wanted to be the ones being worshipped.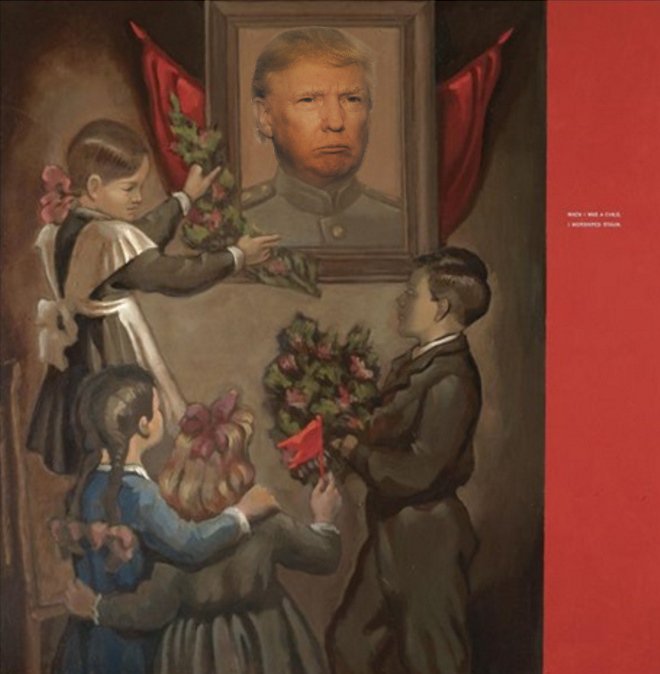 Hitler was not an atheist, by the way...as he demonstrated in Mein Kampf...and even if you don't want to believe this, it is obvious that he used religion and religious beliefs to further his aims, and it made his persecution of Jews and others easier.
Hence today I believe that I am acting in accordance with the will of the Almighty Creator: by defending myself against the Jew, I am fighting for the work of the Lord.
Both Stalin and Mao were paranoid ruthless killers, who wanted to maintain power at any cost. They killed and imprisoned people for political or personal reasons, and to promote their own cult, but there was no intrinsic message of humanism which justified what they did...especially with Stalin, where the most important things was the Stalin cult and religion having no power. You also have to remember that Orthodox Church was the enemy because it had stood by while supporting the Tsar.
"Lucky" me! More proof of how religion can be used to discriminate against certain folks. What began as a Muslim ban was given the go ahead by the SC. Nothing to do with Christianity vs Islam...right? No religious underpinning here, right? Now Trump can use religion to invoke "national security" concerns, just like it can be used to discriminate against LGBTQ citizens who want a wedding cake. Hallelujah, brother.
Give me a break.
EnySpree: Can we agree to agree not to mention Phil Jackson and triangle for the rest of our lives?