Yep

This strike short season Miami Heat may be best equipped to be up down & up again to beat everyone for the NBA Title
Sorry DJ still dislikes, disdains anything MIAMI /Lebron /Wade /Bosh /Riley ..get the picture ?
The Big 3 got my dander up last season as long as they lost year 1 great! This freaking season ain't no different
HEAT doesnt even respect their coach Erik S. but the superstars will never give coach credit if they win title.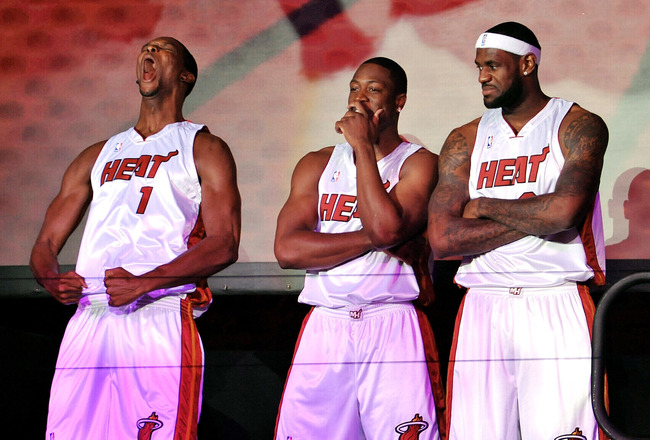 DJ hates the Miami Heat so much I'll easily accept:
1) Reggie Miller's Paces OVER HEAT. Yes we all disdained Pacers rivalry especially Miller, however Pacers were often
dis-respected like Knicks for their tough in your nose basketball. I respected them! Most NBA teams disliked the Pacers
and Knicks back in the day for obvious reasons.

2) Michael Jordans' Bulls .. Yes we cant stand MJ Beating our Patrick's Knicks BUT I still would take any Jordan team
preferrence over the BIG 3 of Heat. Regardless of what BULLs did to us at least Jordan respected Knicks to take his 'A' game
on each time playoff or regular season the Knicks-Bulls war-red & battled.

3) Current NBA teams DJ hates are Celtics of course, Mavericks (not last yr), Laker's and ya know what ? I'd pick and root for
any of these guys to BEAT the HEAT as we all did last yr when Cuban-cigar Mavericks shocked the world ! Whipping Heat.

All in all HEAT better go for it soon for their title. Everyone outside of Miami hates that team, they are so full of themselves
and I'm man up to admit LBJ, Wade are too talented not to eventually win if they get hot the right time.
However until our Knicks build a NBA title contender I'll get joy watching HEAT fail always!